Communities, capital and urban space is the subject of the 7th Informed Cities Forum, taking place in Warsaw.
An eclectic mix of local and European policy makers, urban activists, social entrepreneurs, researchers, investors and funders will descend upon Warsaw to take part in the unique program. Join us in Warsaw October 15 & 16, and attend the lively and informative series of events!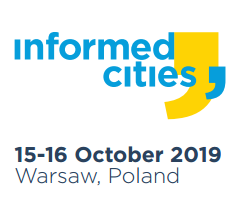 9:30-10:00 (Re)inventing the place. Lessons from Praga.
This opening keynote will take a critical look at the processes of urban transformation, focusing on lessons learned from the Prague experience.
10:00-10:45 How is your city changing?
A lively exchange session on the processes of urban transformation.
13:45-17:00 Time to explore: field workshops?
These unique workshops will showcase different aspects of urban regeneration in Warsaw.
19:00-22:00 After Hours: the not-to-miss evening event
Following a long day of focused discussions, it's time to continue the exchange in a less formal atmosphere!

9:30-10:00 Reclaiming the city for people. Lessons from Lisbon.
An increasing number of cities are pursuing alternative visions of urban development. Deputy Mayor of Lisbon, Paula Marques, will outline Lisbon's approach to the many challenges facing European cities.


10:00-12:00 Room full of ideas-grab your seat!
Experts and practitioners from across Europe answer your questions and exchange ideas on urban regeneration, adaptive heritage reuse and non-speculative urban development. 


12:00 Panel discussion: Funding a Co-operative City
Eutropian's very own Levente Polyak moderates this panel discussion on sustainable and financially feasible community led urban development models.