Commons in Practice was a project developed a unique way of approaching the topic of Urban Commons in the Durrës Municipality of Albania.
The BACID funded project involved experts from Eutropian, local partners in Durres,  the municipality and stakeholders.
The project was initially developed as an exchange project, but due to the travel restrictions and limitations posed by the current pandemic, it had to be moved online.
Over a series of interactive online sessions, Eutropian experts provided a transfer of know-how and a summary of good practices. The examples focused on successful cooperation between public authorities and other relevant local stakeholders such as scholars, communities and local businesses. Project experts presented best-practice examples of Urban Commons use around Europe and proposed alternative solutions on how urban-civic partnerships can be built to last.
"What should we do with abandoned sites?"
This is an important question, the answers to which Eutropian has actively been exploring and researching for many years. Although numerous current examples serve as models of establishing Urban Commons, many communities still struggle with sustainably managing and funding such projects. Durrës, the second largest city in Albania, is in a similar situation.
That's why this project focused on finding a new approach for Urban Commons in Durrës Municipality
Durrës is a city with numerous old and unused vacant buildings that could serve as suitable sites for reuse and repurposing. The project was based on three basic questions that arose during the initial discussions:
How can we create a place or site that is inclusive and serves multiple purposes?
How can we include the local community in this process and beyond?
What can we do to make the historical sites of the region more visible and attractive to tourists?
Workflow for commons in Durrës
Commons in Practice Workshops
As stated previously, the original plan was to visit Durrës with our experts. The visit would ensure an exchange and help them gather information and make sense of the region, the stakeholders and the situation on the ground.
Of course, due to the COVID-19 pandemic, this plan became difficult to implement. We quickly came up with an alternative and moved the whole project online. 
Adapting this new approach had its pros and cons, and we had to explore new methods and modes of exchange, while developing an interactive and engaging workflow to serve as a substitute for real-life interaction.
The first step was to introduce the stakeholders and experts, and promote an exchange of information as well as engagement. To ensure comprehensive exchange, a total of four online meetings were held.
View the sessions in full
Click on the video links below to view the workshops in their entirety, including the fourth session focused on using interactive games to create commons strategies and concepts:
In order to tackle these questions and provide guidance to local stakeholders, the experts of Eutropian presented 4 best-practice examples from the OpenHeritage project, as well as  the case of Hittisau, a women's museum in Austria. The examples covered a variety of unique and innovative methods and structures to ensure inclusive and sustainable use of vacant buildings.
Built in the 1850s, Largo Residências is nowadays a hostel, hotel, artist-in-residence and community café located in Lisbon's Intendente neighbourhood.
Stará Tržnica, the old market hall, is located in the heart of Bratislava and was built in 1910. Following many years of vacancy, new life was given to the market hall when the NGO Old Market Hall Alliance leased the building from the city governmen.
The Cascina Roccafranca can be found on the outskirts of Turin. Built in the 17th century as a farmhouse, the building has been used as a public social and cultural centre since 2007.
Färgfabriken, established in 1889, is an industrial building in Stockholm. Since 1995, the building has been accommodating exhibition spaces, an event centre, and a contemporary cultural laboratory.
Gamification as a means to collaboration
Workshops thrive on interactivity and fostering face-to-face exchange among participants. Moving workshops online poses major challenges and risks. If not orchestrated properly, they run the risk of transforming into tiresome and unnecessarily long lectures, lacking real exchange and participation.
To prevent this from happening, Eutropian's  gamification experts developed a customized virtual board game in which local stakeholders, as well as participants from Eutropian took part.
Playing together, creating together:
The objective of the game was inspired by the existing commons options in Durrës: to transform a fictitious empty factory building into a community space through community participation. Miro was chosen as the platform to host the board game and provide interactivity. Participants had to cooperate in finding a common ground via a 4 step process:
Empathize: The first step of the game required participants to select a "Stakeholder Card." Each unique card personifies the characteristics, history and demands of a person who could, in theory, be living  in the neighborhood.
 Design: The second step of the game required  players to design their personal project for the urban void based on the knowledge and vantage point of their stakeholder.  Each participant was required to choose two cards from each of the two categories: "Function" and  "Methodology."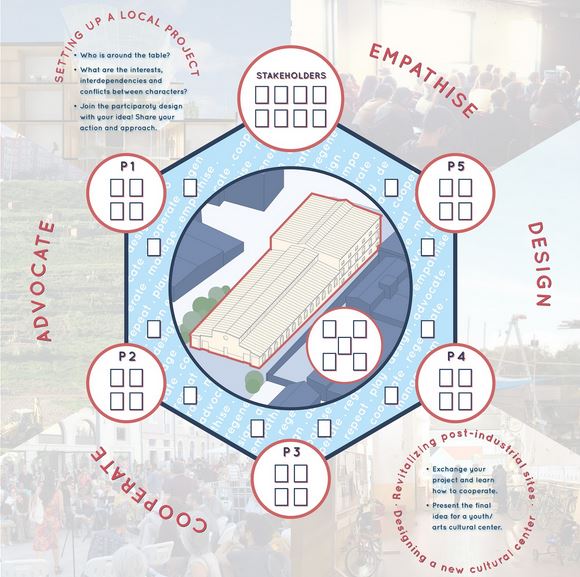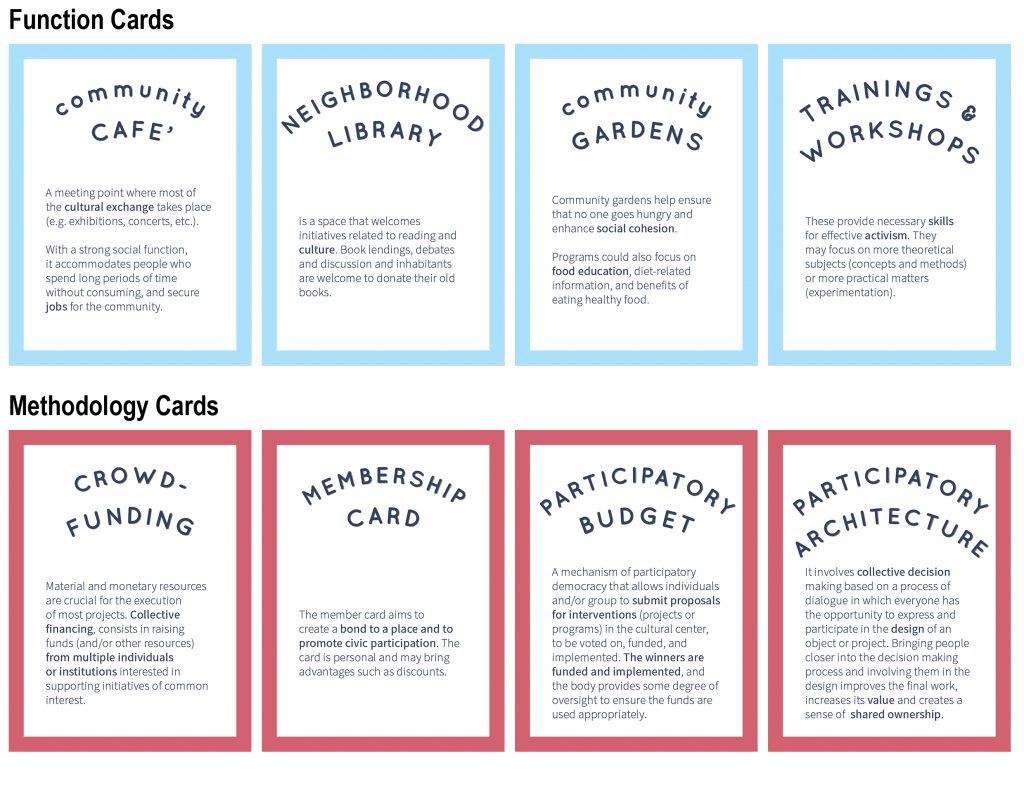 3. Cooperate: The next step in the game sees all players presenting their selected cards to the group. Following this step, only 5 of all presented cards are chosen by the group to help generate a discussion around the selected concepts and methods. These 5 cards are to represent the co-designing process for the vacant building.
4. Advocate: In the last step, a player is selected to summarize the finalized project, togeth4r with the creation process and new functionalities. An open discussion ensues, evaluating the concept's coherence and effectiveness.